Lake Park Footbridge
1906 Arch Bridge Closed Without Warning
By J.R. Manning
Saturday, February 04, 2017
An important component of Milwaukee's historic Lake Park was closed without notice on December 9, 2016. The bridge, designed by Alfred C. Clas and George Bowman Ferry, connects the northern and southern halves of the park by spanning a deep ravine. Lake Park was designed by Frederick Law Olmsted. It was posted to the NRHP in 1993.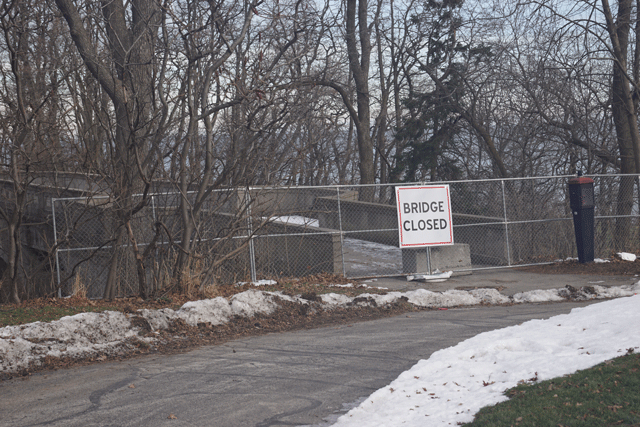 The historic bridge's fate is uncertain. Photo by author.
The concrete arch bridge has been a source of concern for several years. Cracks and spalling raised concerns, leading to a structural analysis in 2015. Potential failure of the bridge prompted its closure on December 9 along with the closing of Ravine Drive, a roadway spanned by the bridge. According to County Executive Chris Abele, the bridge will be demolished if people ignore the chain link gates that block access.
Estimates to repair or to replace the bridge hover around $2 million, a sum not readily available. Fans of Lake Park and of the historical value of bridge are disappointed over rumors of the bridge's potential demolition.
The concrete arch bridge was part of a promenade that included a grand staircase (extant) allowing access to the lower portion of the park at the bottom of Lake Michigan's famous western shore bluff. There was also an athletic field and stands that were demolished decades ago.

Ravine Drive, a popular roadway, is also closed. Photo by author.