I-75 Bridge Collapse in Cincinnati; 1 Dead 1 Injured
By J.R. Manning
Monday, January 19, 2015
The Cincinnati
Enquirer
reports that on January 19, 2015, a bridge over I-75 collapsed about 10:30 PM in Camp Washington near Cincinnati, Ohio. According to the report, 1 construction worker is confirmed dead, a semi-truck driver was injured. The catastrophic pancake collapse happened on the old northbound exit ramp to Hopple Street, which was being prepared for demolition at the time of the collapse. The replacement bridge is already open.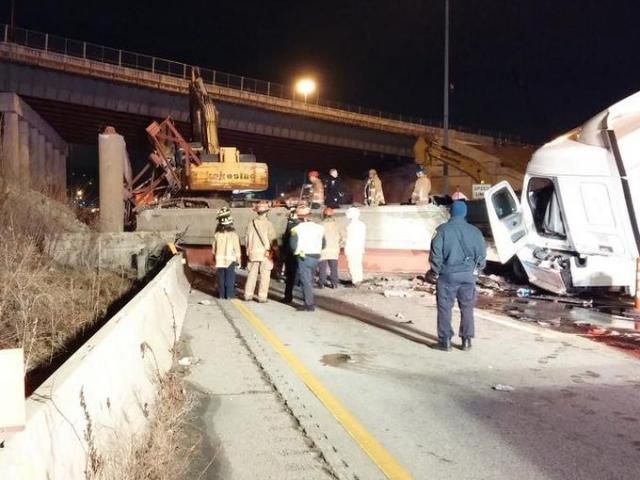 Photo: Cincinnati Fire Department
The semi-driver was injured when his rig collided with the rubble. Had he been a few seconds earlier, the results might have been quite different.
"What appears to have happened is, in essence, an industrial incident – a workplace incident with respect to a construction crew that's doing work out here," city manager Harry Black said. "Something went wrong, and a tragedy has occurred as a result. ... We don't believe that there is any additional loss of life."
City officials expect the highway to be closed for at least 48 hours while the investigation and cleanup takes place.
(Sources: Cincinnati Enquirer, WHIO News, various wire services)